Sister's Run Old Testament Cabernet Sauvignon 2016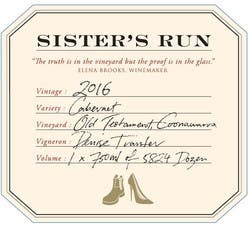 Appearance: The color is bright red with brick overtones. Nose: Leafy and dusty with a hint of true ripe cassis. Mouth: The entry is open and textural and the middle palate continues dry and savory, before being incoiled by assured manly tannins. the after palate has a final note of bright berries and the finish is long and drying. Pairings: In summary this dry moreish wine suits charcuterie or salumi, or our finest homemade wurst.
Wine EnthusiastThis is a dense, austere wine, but it's one that seems reflective of varietal and place, namely the terra rossa soils of Coonawarra. The nose packs in raisiny red fruit, chocolate, milky coffee and earthy herbs, while the palate comes with muscular, drying tannins, tangy fruit, stony minerality and herbal nuances. There's a structure and balance here that suggests this wine could age for another decade, but for the price, it'll likely be drunk now, so have high protein dishes at the ready.
Wine AdvocateMint and cassis are classic Coonawarra notes in the 2016 Old Testament Cabernet Sauvignon. It's medium to full-bodied, with slightly grainy tannins and a dry, astringent finish, but how many $20 Cabernets do you know that will likely age for a decade?