Tyrconnell Single Malt Irish Whiskey 16 year old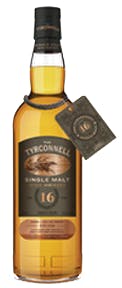 The Tyrconnell® 16 Year Old is the highly anticipated limited release expression that builds on the legacy of the original incarnation of The Tyrconnell®. This is the result of sixteen years spent in bourbon barrels, and the first general release of an aged expression of this magnitude. The nose evokes citrus with underlying notes of oak, then the palate reveals a light and approachable taste with green fruits. The finale is subtly sweet with notes of oak and a smooth lingering finish.
Wine EnthusiastThis new single malt, debuting in March 2017, has a fresh, grassy scent, a drying feel and plenty of bold flavor. Think rounded almond, subtle vanilla sweetness and coconut cream pie, finishing with a burst of citrus- and ginger-peel zing.